With new Greek Art activity!

Two free genuine Roman coins with each Roman art workshop!

Time Trips delivers workshops on ancient history and science subjects in primary schools in the North West of England. Each lesson has been carefully designed to engage children with educational and exciting hands-on activities, such as making models and artefacts, role play, drama, and games. The lessons are fully compatible with the new curriculum, and are always being updated and improved. There are various options for most of the workshops. Follow the links to the left for details, as well as photos of the activities and feedback from teachers and children.
Workshops last a full day and take place mainly in the classroom. The teacher, Tony North, is a former history teacher with an MEd and an MSc in child psychology. The fees are £225 to £239, depending on the cost of resources.
About Time Trips Where I will travel to
How Time Trips supports the new curriculum
**I am away in Turkey from Aug 27 to Sept 5. I can be contacted by email, but I will be unable to update the list of available dates below, so please check with me.**
Dates available Autumn 2015: Sept 18, 21, 25, 29, 30, Oct 2, 5, 6, 7, 12, 13, 14, 19, 20, 23, 26, 27, 28, 29, 30, Nov 3, 9, 10, 20, 23, 24, 25, 30, Dec 1, 2, 3, 7, 8, 9, 10, 14, 15, 16, 17, 18
Bookings also taken for Spring and Summer 2016
To book:
Contact: Tony North Email: tnorth67@hotmail.com
Tel: 0161 224 6445
Email is usually the best form of contact, as I can guarantee a response within 24 hours.
Address: 44 Whitebrook Road, Fallowfield, Manchester, M14 6EF

You can now read the whole of my novel, Marathon, on this website. I wrote it in 2009 and self-published it. It is a story about two boys and their father who were in the battle of Marathon, and is suitable for older children.
FREE loan of a fantastic Stonehenge model if you book a workshop - perfect for the new Stone Age unit!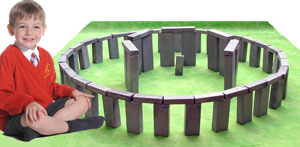 Learn more about:
Science
Watch videos used in the new Evolution lesson:
Compound eyes (how insects see)
Ancient Egyptians
Ancient Greeks
Romans in Britain
Roman and Celtic Weapons and Armour